Suzuki 2004-2015 DRZ400SM DRZ 400 SM Zeta Rear Axle Blocks Chain Adjuster BLUE
Brands:
Zeta
Suzuki 2004-2015 DRZ400SM DRZ 400 SM Zeta Rear Axle Blocks Chain Adjuster BLUE
This listing is for a set of BLUE Rear Axle Adjuster Blocks for
Suzuki DRZ400SM .
ZETA AXLE BLOCKS
SPECIFICATIONS:
- CNC machined anodized axle blocks.
- Made of A6061-T6 aluminum.
- Rotate using the forward and reverse positions
, able to offset axle shaft 13mm in reverse position.
(Mini / pit bike size is 11mm)
- Scales on both sides of axle block for easy adjusting.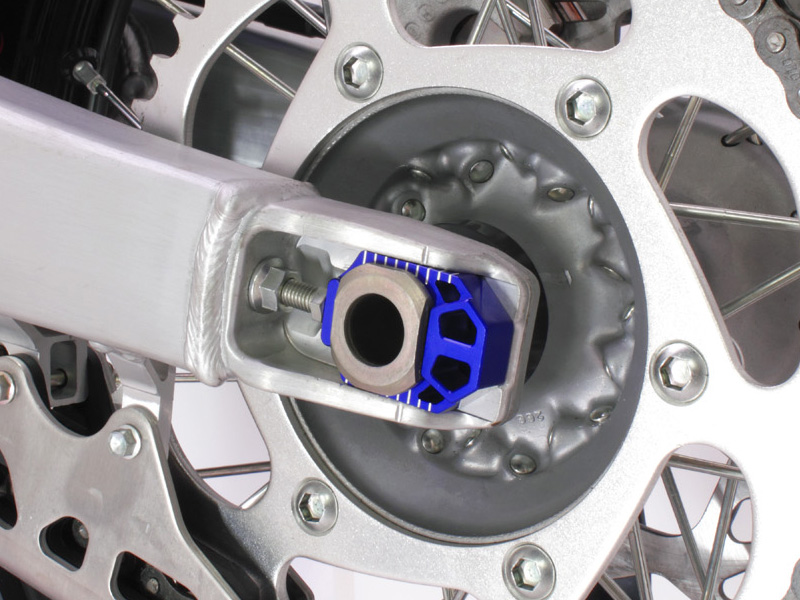 Thanks for looking and for your business - moto-heaven.
moto-heaven Owner-Rider Phil Caudill
moto-heaven owner / Thrust Company Rider - Phil Caudill with 2009 AMA MotoGT Champions - Crozier Motorsports
Proud sponsors of these and other Professional Stunt Riding and Race Teams:
StarBoyz "Bill D" Dixon- Yamaha Factory Rider Kyle Sliger Luke "Duke" Emmons Crazy Dan Jackson Josh Borne-Hyosung Factory Rider Tony Carbajal Aaron Twite "Sick Nick" Karapis Ryan Stephens Aaron Colton-Red Bull Rider Dena Sodano Rick Hart Ryan Hawko Chris "Teach" McNeil East Coast Stunters Shin KInoshita "Ryan S" Joe Beavers Guru Kahalasa Eric Hoenshell Brian Bubash Tony Prez "Savage Lin" Eshalom
About Auction Feedback- I love to give positive feedback. And if you follow the auction rules you will receive it. However, because of the volume, I don't get a chance to go in and update feedback for those who have paid all that often. So, if you'd like feedback quickly, then leave me feedback as soon as you get your items and I will see this on my main eBay screen and respond with feedback immediately. I have not received negative feedback from anyone who has contacted me about an issue or problem and/or given me a chance to resolve it. In fact even when I've sent out the correct parts but given incorrect info, I've done a swap or credit for the right parts for them. I see a problem as an opportunity to really provide great service and gain a lifetime customer- not that I want an issues to come up.
Attention AOL users - Due to the high volume of questions we answer from AOL subscribers, we are occasionally put on their Blacklist because their servers think we sending SPAM. This is not true and we do not send any unsolicited emails. Nevertheless, if you don't get a response from us in regards to a question or order within 24 hours please call us. Our Tech Line is 814-489-3379, our Toll Free Order line is 1-877-416-0969, and cell is 484-951-3128.